Billing Software For Chemist & Pharmacy Shop
Busy Software provides features like Batch-wise detail, Manufacturing date, expiry date, maintain MRP, discount structure, drug license, post-dated cheque, salesman brokerwise in each voucher, order processing, credit limits, packaging processing, credit limits, commission for pharmacy.
BUSY Accounting Software helps in pharmacy shops. It is a robust solution which is designed to streamline operations like generating reports and invoices. It helps to manage medicines information, expiry dates, inventory, billing, and invoices. This software is used by pharma distributors and retailers, medical stores, hospitals, and independent pharmacies to fulfill medical prescriptions, and manage the operations. BUSY GST Software is truly an online pharma sales force automation software for pharmaceuticals, FMCG, and other trades, which is a territory-wise, hierarchy-based, and real-time system that works in 24x mode. It has a good order management. It manages all order from chemist for smooth business flow. It helps to channelize orders hassle free.
BUSY Software allows you to make business decisions much more efficiently and lets us drive the company toward the goals company want to reach. It supports every critical business function, allowing you to stay on top of your business and grow profitability.
Features of BUSY which helps in Pharmacy Shops
Enable Batchwise Details
Manufacturing Date (Month/Year)
Expiry Date (Month/Year)
Maintain MRP,Warning to be shown '90' Days
Maintain Drug License
Enable Free Quantity in Vouchers
Allow Sales Return in Sales Voucher
Set Voucher Optional Fields in Series (For Patient Name and Doctor Name)
Enable POS in Series
Enable Item-Wise Discount in Series
Enable Auto Round Off Final Amount in Series
Pricing Mode (Treat MRP As Sale Price)
Credit Limits
Enable Bank Reconciliation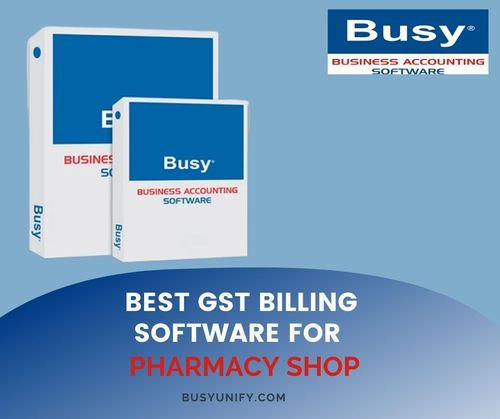 BUSY GST Software can manage entire processes and operations including sale, purchases, inventory, billing, accounting, and reporting etc. effortlessly with this solution. It is user-friendly interface and is easy to deploy. The solution is available as single as well as multi -user versions. The software equips the businesses with customizable reports to generate analytical data that helps in effective decision making.
Call To Action
We are prominent Busy Accounting Software service providers in Delhi to our clients spread all and across the India.Here's how to connect with a our expert for sales - +91 7217799535
for Support : 9667689327, 9667689328