Furniture Shops inventory Management software
Furniture Shop Accounting Software provides sales order management, inventory management, stock management, invoicing, discount structure, GST invoicing, Schemes, serial number tracking, bookkeeping for furniture shops.
Furniture Store requires delivery scheduling and route planing for delivery. Inventory may be located on the showroomn floor, in a store room or in a separate warehouse. Items are generally one of three types ; stock, special order and customize to order. Busy accounting software helps in customization. It provide inventory system. It enables users to manage their business and complete transactions in store as well as at markets, pop-us and trade shows.
Busy Software includes online sales reports, inventory tracking, digital receipts. It is suitable for all retailers in industries.
Features of BUSY which helps in Furniture store
Sale order/pre order management
Manufacturing features
Inventory management
Gst Invoicing
Scheme Available software
Enable Item-Wise Discount in Series
Enable Auto Round Off Final Amount in Series
Pricing Mode (Treat MRP As Sale Price)
Credit Limits
Enable Bank Reconciliation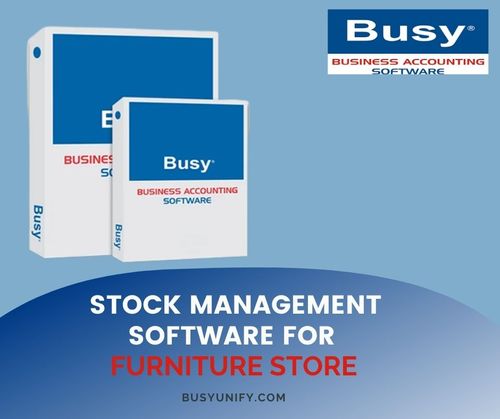 Benefits of inventory software
It improves efficiently of your business.
Easy to manage orders and provides visibility on outstanding orders.
It fullt automates your furniture business.
Manage your inventory and makes accounting easy.
Call To Action
We are prominent Busy Accounting Software service providers in Delhi to our clients spread all and across the India.Here's how to connect with a our expert for sales - +91 7217799535
for Support : 9667689327, 9667689328