Busy Software For Footwear Shops
Busy Software allows footwear shops to use Stock management, purchase management, point of sales, E-way bill, E-invoicing , GST return,bar code management , inbuilt features.
Busy Software is an excellent business solutions for management in footware stores. Whether you run a single store or chains of footwear store, the software empowers your business efficiently manages day-to day complex store operations. It has a robust point of sale system that increases sales, purchase and stock maintain processes.
Busy makes your store trendy and gives your business a healthy comparison between valuable products. It improves customer satisfication, controls overall costs, render comfort and provides a smart choice.
Features of BUSY which helps in Footwear Shops
Billing and sales
Barcode generator
Enable Free quantity in vouchers
Allow sale return in sale vouchers
E-way Bill
Enable POS in Series
Enable Item-Wise Discount in Series
Enable Auto Round Off Final Amount in Series
Enable Bank Reconciliation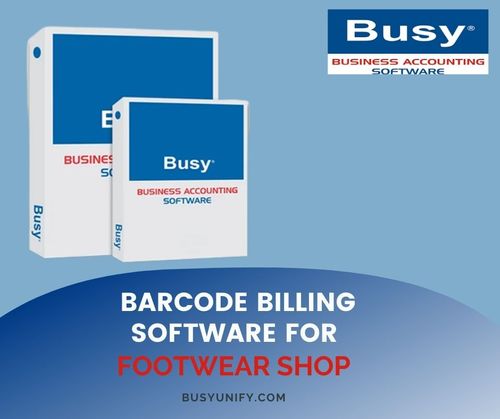 Benefits
Ideal solution to business complexity.
Optimizes store operations and provides the intelligence
Handful of high-end features
product management
Inbuilt features
Fast track order fulfillment features
Call To Action
We are prominent Busy Accounting Software service providers in Delhi to our clients spread all and across the India.Here's how to connect with a our expert for sales - +91 7217799535
for Support : 9667689327, 9667689328